I'm off for the weekend and won't be back until Sunday night. As usual, I'm very behind in email so I do apologize for any emails as yet unanswered. I'm such a narcissist, I do so love your emails. I probably won't be able to write back until Tuesday, because of the big show Sunday into Monday.

Most of us are well aware of blitz for Monday, but I'm posting this anyway. I'd also like to post this little image and a request: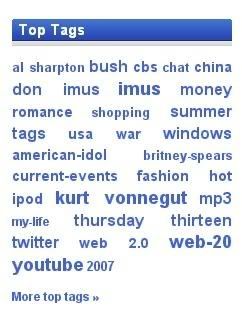 Call 'em tags, call 'em labels, but please on Monday, let's call them the same thing.
Obviously,
adoption
comes to mind.
Adoption
is always seriously missing from
Technorati's
tag page unless it's
preceded
by the word
celebrity
.
The more of us using this tag, the better chance it has of hitting the popular page at
Technorati
. If it's only us posting this within our link circles, this won't mean a hill of beans. Once people outside us start posting, that's when it could get the attention it needs.
I don't care what they post about it. I don't care if a blog I despise with political views I find
abhorrent
has it. What matters if that if they have, then the folks in their link circles may have it, and their link circles, and their link circles... then people who hate that link circle will post it because they're just jackasses, so they'll post it, and so will their link circle, and their link circle.... Get the idea? Just like that old 'you tell two friends' hair commercial.
Have a great weekend everyone. I'll be back here glued to my PC by 8:30 Sunday night in time for the show. Looking forward to Monday.
PS Just to update this a bit before I hit the road, if anyone on Blogger needs help with labels, blogger's help doc for it is below. Also, other labels/tags work too, I wouldn't think anyone should limit their tag to
just
adoption, the idea is to get as many people as possible blogging with the same tag at the same time.
Blogger FAQ: labels
http://tinyurl.com/2wxrl2
Blogger Blitz Called to Bring Baby Evelyn Home
By OriginsUSA
Dated: 2007-04-12 08:54:20
As court battle for Baby Evelyn trudges on, new details of case are revealed. OriginsUSA calls for
Adoption community bloggers to help.
Richmond, VA April 12, 2007 - OriginsUSA, Inc. is organizing a Blogger Blitz for Monday, April 16,
2007, to increase media and public awareness of the coercion used to obtain the surrender and removal of five month old Evelyn Bennett from her seventeen year old mother, Stephanie Bennett, on September 12, 2006, in Canton , Ohio.
Traditional media, with the exception of Rick Armon of the Akron Beacon Journal, have largely ignored this story. As outlined by Mr. Armon in the original story on December 31, 2006, the Bennett case has many unanswered questions. Despite the lack of media coverage, the interest of the online community has not diminished and has been kept alive for months via blog articles, adoption forums and online chats.
Kicking off the Blogger Blitz will be a live stream, online, radio interview with Judy Bennett, Stephanie's mother and grandmother to baby Evelyn. "The Adoption Show," www.theadoptionshow.com with Michelle Edmunds, will air on Sunday, April 15, 2007, and will be available online thereafter. The interview will break the codes of silence and gag orders imposed upon the family, while showing that this story is more tragic than even previously known.
A factual time line will be available to bloggers, along with further, as yet unrevealed, details. Links tothis information and a list of participating bloggers will be available on the OriginsUSA website at www.originsusa.org . The online adoption community, other mothers who have been forced to surrender, adult adopted persons, and people who have adopted will have the opportunity to react to the new information. They then can respond as to why this case is important not just to people involved in adoption, but to all who care about truth and justice.
It is hoped that attention generated by bloggers will inspire renewed interest from mainstream media and cause widespread support for the Bennett family. To date, the Bennetts remain separated from their daughter and granddaughter and are fighting in court for the return of baby Evelyn. Sandy Young of OriginsUSA, who has been working with the Bennett family said, "Wrongly ignoring cases like the Bennett's, and the many other stories of forced adoption that still occur in America as accepted adoption practice, allow these abuses to continue. OriginsUSA fights for justice and the preservation of natural families."
If you are interested in being part of the Blogger Blitz or would like more information about how to help the Bennetts, please contact BOD@originsusa.org
*****
For more information about the truth of adoption, past and present, join us at OriginsUSA.
OriginsUSA, Inc. advocates for the preservation of natural families and, as a last resort, alternative systems of child care that respect the needs and dignity of both mother and child above permanent adoption separation. We provide support for people separated by adoption, fight coercive adoption practices, and educate the public and policy makers about the effects of adoption separation. A national organization, we are internationally affiliated with Origins Inc. ( NSW Australia), Origins Canada, and other Origins branches in those countries. OriginsUSA, Inc. has also aligned with Tracker's International in the U.K. and with Adoption Crossroads in the U.S.
adoption