I am so ashamed of all of you.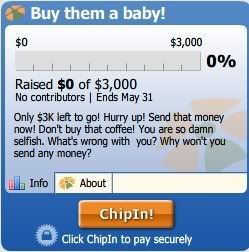 You selfish pigs, each and every one of you.
Think of all the times you wasted that money on things you didn't need. Yes, I'm talking to you, you coffee-buying, movie-going, dress-buying, trip-taking, inconsiderate, wasteful jerks -- when there's
a child
to be saved!!
You could have saved the life of a child.
But no, you chose to buy those unnecessary things.
I hope you're proud of yourselves.