Sang-Shil at
Land of the Not-So-Calm
, a blog I love and I'm sure you do as well, awarded me an
E for Excellent Award
for my
three
part
series
on my genealogical journey back to 1963 Philadelphia, to see with Mine Own Eyes the
land of my soul
.
I am extremely touched and honored. That award came yesterday, which was a day I got yet another envelope without a return address from Philly, which prompted the same epileptic fit as did
the previous one
. But inside was not a letter from my mother, but rather an invitation to a wedding shower from one of my adoptive cousins. The lack of a return address was an oversight on her part, as was the fact that she forgot to put the time this shin-dig starts. I just love this woman. She's so forgetful, you'd think we were related.
Anyway, I'm very, very moved to get this (the award, not the invitation. Fuck, weddings are
expensive
), but I'm not going to forward it on to another blogger. I don't know if y'all remember that
Thinking Blogger brouhaha
of last year, but it just about did me in. I drove myself nuts freaking out over who to give it to and was practically bleeding out my eyeballs with stress after I finally posted it.
So I'm going to do something a little different. I know it's an award for an excellent blog, but I've never been one to color inside the lines. Instead I'm going to award it to four sites. Four websites which, gentle reader, I know you already know about, but that I want to send some love to anyway. I've been getting a ton of new traffic from that
Alltop site
which I ungratefully have YET to make a blog post about, so for any new-ish type folks – these are places you want to be (in alphabetical order of course):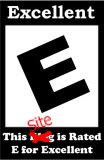 1.)
AAAFC (Adult Adoptees Advocating for Change)
, which started as AFC (Advocating for Change), but with the influx of Aussies I still think should be AAAAAAFC (Australian and American Adult Adoptees Advocating for Change) and then I think they should do more outreach to transracial adoptees and we could be AAAAAAAAAAAAFC (African American and Asian American and Australian and American Adult Adoptees Advocating for Change) BUT that would leave out folks adopted from other parts of the world so never mind.
So AFC – join it. Now. There is no other adoptee forum like it on the web, never has been, never will be, forever and ever amen. And look for our new children's book, my chapter is called Cockroaches in Kensington. If you want to know why that is funny, you have to join. NOW.
2.)
AdopteeRights.net
– Go. There. Now! Sign up for the demonstration. C'mon, New Orleans in July, you wanna miss out on all the steamy fun? No way! Sign up, get your plane tickets, get your hotel, we're waiting! If you can't come, please make a donation, every little bit helps and there are so many expenses left and time is growing shorter.
3.)
Adoption Show
. I love Michelle I love Michelle I love Michelle I love Michelle. Did I tell you I love Michelle? Well I do. Blogging is awesome and you get to sort of kind of know people through their writing, but when you hear their voices, that's a whole new thing altogether. And be on the lookout for this show, which I am just chomping at the adoptee pony bit to hear:
4.)
RegDay
. Please start thinking about it now. November will be here before you know it. I know we're all going to be keeping our collective eyes on the elections and working ourselves to the collective bones for the candidate of our choice this important year, but RegDay 2008 is important too. It hits people without internet access, or those with internet access but who don't have an idea on how to search. For a lot of people, it's the first step towards waking up. Can you imagine a year with a RegDay in
every
state or province? How about every
county
? I can. Think big, and please please consider hosting or volunteering at a table this year.
5.)
Y! Answers
. A-hahahahah I'm doing five instead of four. You can't stop me. Y! Answers – the adoption category to be specific. The place where the ignorant go to spout off about shit they know nothing about, as evidenced by the answers to
this question
.
Sign up and answer a few, help balance out flotsam and jetsam of the internet why don't you?